24V210Ah lifepo4 battery PACK
24v210ah lifepo4 battery Advantages:
This 24V210Ah lifepo4 battery system has built-in BMS and stainless steel box painted in black or white.
1. Maintenance free. Modular design for easy installation and capacity expansion.
2. Long cycle life (more than 3000 cycles at 80% DOD)
3. Bulit-in smart BMS with multiple protection and communication functions
4. Wide working temperature range and high reliability
5. Multiple battery units can be connected in parallel,suitable for high energy storage applications.
6. Compatible with various charge controllers and inverters
7. Widely used for off-grid solar system storage, telecom back-up, central data center…etc.
24V210Ah lifepo4 battery specification
1
Nominal Capacity
210Ah
2
Minimum Capacity
205.8Ah
3
Nominal Voltage
24 V
4
Energy
5376Wh
5
Discharge Cut-off Voltage
20V
6
Limited Charge Voltage
29.2V
7
Charge Time
Approx 6.5hrs
8
Standard Current
42A
9
Max Charge Continue Current
105A
10
Max Discharge Continue Current
105A
11
Maximum instantaneous discharge current
210A(3s)
12
Pack Dimension
595*173*510
13
Weight
Approx 64.0 kg
14
Allowable
0℃~ 50℃
Charge Temperature Range
Temperature
-20℃~ 55℃
Discharge Temperature Range
Range
-20℃~45℃ 85%RHMax
Less than 1 month
-10℃~45℃ 85%RHMax
Less than 3 months
-15℃~35℃ 85%RHMax
Storage over 3 months
Performance And Test Conditions :
Standard Test Conditions
Test should be conducted with new batteries within one week after shipment from our factory and the battery shall not be cycled more than five times before the test.
Statement 1): Unless otherwise specified, all tests stated in this Product Specification are conducted  at below conditions:
Temperature: 20±5℃("Temperature Condition")
Humidity: 45%~75%RH ("Humidity Condition")
Statement 2): Throughout this specification, numeric criteria annotated by"*"means such criteria are  only
applicable to fresh unused Product within 28 days from manufacture.
Products either have been used or stored for a period longer than 28 days by Customer and/or its customer
may exhibit an inferior numeric parameter than such criteria. Customer agrees that such occurrence does not
constitute nonconformance of specification.
Measuring Instrument :
Dimension Measuring Instrument :
The dimension measurement shall be implemented by instruments with equal or more precision scale of 0.02mm.
Voltage measurement :
The voltage measurement shall be implemented by instruments with equal or more precision scale of 0.001V
Ammeter :
Standard class specified in the national standard or more sensitive class. Total external Resistance
including ammeter and wire is less than 0.01Ω .
Impedance measurement
The Impedance measurement shall be implemented by instruments with equal or more precision scale of 0.1m Ω
Lifepo4 Battery Charge & Discharge Current
Standard Charge& Discharge Current :
0.2Cmin= 42A
Max. Charge Current:
0.5Cmin= 105A  29.2V (CC-CV) Cut off current :0.02Cmin
Max. DisCharge Current:
Battery shall be discharged at a constant current of 0.5Cmin= 105A to 20V @ 23± 2℃ (
If no otherwise specified, the rest time between Charge and Discharge amount to 30min.
Appearance
There shall be no such defect as flaw, crack, rust, leakage, which may adversely affect commercial value of battery.
Custom Connectors of Lifepo4 Battery PACK 24v210ah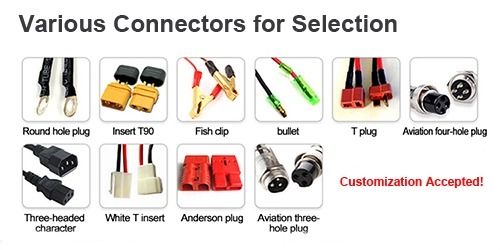 LifePO4 Batteries Related Products:
Related Products Application:
LifePO4 Batteries Related Posts:
Tips: more detail information, for deep cycle LiFePO4 battery。