The SMF battery could be treated as the heart of every vehicle as it's the only power source that supply the
current to the starter motor and ignition system when you start the engine, while in modern vehicles
make massive demands on the starter batteries, it is more important than ever to choose the right battery.
Covering a wide range of powerful batteries and brands, Brava Electrical is proud to be able to provide
the right power at the right place nowadays, whether it's for a modern engine system, conventional car,
heavy duty truck, motorcycle, or fun sport vehicle. And thanks for the continuous technology innovation
and application, all our batteries are sure constructed to deliver maximum performance and reliable
starting power on every single day, and under all conditions to boost the "heart" of your vehicle
Brava SMF battery – the tailor-made power for every car!
Why do virtually people from all around the world choose Brava Electrical batteries to fit their vehicles?
Because Brava Electrical brings together state-of-the-art technology, years of experience and stunning
innovations to guarantee the perfect energy supply for every single vehicle at all class power requirement.
We work exceptionally hard every single day to be able to provide our customer with excellent batteries that
lead the market in terms of quality – both now and in the future. Whichever battery you choose from Brava
Electrical, you're sure to have made the right choice and can rest assured you'll benefit from maximum
starting power, a continuous power supply and 100 % reliability. After all, Brava Electrical battery products
combine all these advantages with cutting edge, pioneering technology.
As to our SMF (sealed maintenance free) battery for car, the Endurance Battery Range offers a combination
of good value and cost effective to fit the cars & light vans with standard power requirement and people with
better things to do than battery maintenance. The Advance Battery Range matches the technology and
specification that we supply to the customer for the majority of their modern vehicles. And finally, there's
Supreme Battery Range, which meets the demands of recently launched, high-performance, premium cars,
and those still under manufacturers' wraps in the years ahead. And whilst each our battery is specifically
designed for a different market segment, all our four car battery ranges feature the tried and tested advance
alloy, which offers the end-user longer life, and unbeatable reliability.
Which SMF Battery is suit for you?
There are many factors which determine which battery is right for a vehicle: the age and type of car, engine size, electrical equipment, etc.
This graph illustrates which Brava battery is most suitable, taking these factors into consideration.
Car's present value:
Endurance Battery Range: for conventional and older cars with a smaller engine and an average amount of electrical equipment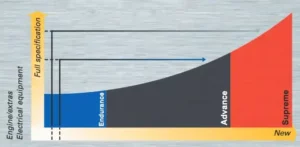 Advance Battery Range: for more modern cars with a mid-range engine and today's standard level electrical equipment.
Supreme Battery Range: for new and premium cars with a large engine and an above-average amount of electrical equipment
Supreme Range
The max power for max performance
High-performance, highly equipped vehicles lay massive demands from their battery
nowadays. That's where the Brava Electrical Supreme MF car battery range excels.
Engineered to meets or exceeds the original equipment requirements, this car battery
range features extremely high reserve capacity and superb cold start performance to
deliver maximum durability, reliability and power day by day under all conditions,
and that's all make this battery range as the perfect choice for the latest made high
power consumption vehicles with extremely high power demands.
Ideal for modern vehicles with a large number of electrical devices and with extremely high performance demands.
Latest Silver-Calcium technology for increased power and long lifespan.
Optimized internal design for higher cranking and amp hour performance
The latest in polyethylene envelope separators to protect against vibration
High-end product available on the market.
Totally maintenance free.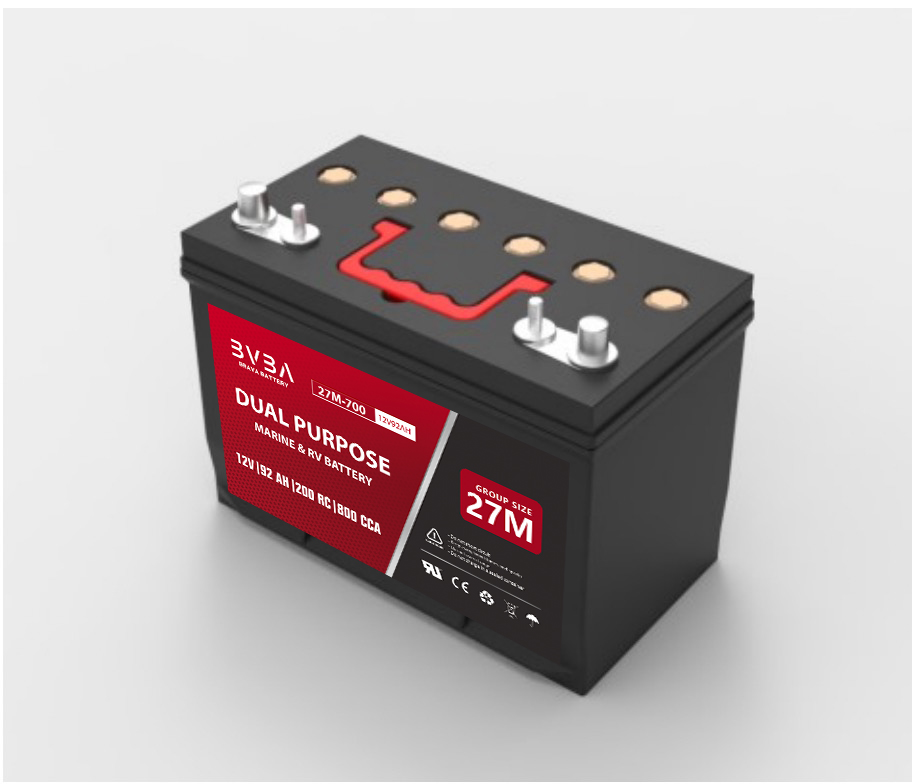 The Advance Range
Extra power for premium performance
Advanced Calcium technology for high performance and longer life, the Advance
Battery Range is a real bonus for offering extra starting power and provides
consistently high performance for longer periods of time.
A range of batteries that designed to meet the specialized power requirement of
modern made vehicles, these batteries incorporate industry leading design features
and are manufactured in accordance with the latest production methods and quality
controls to deliver real trade and consumer benefits of ultra reliability and dependable
performance.
Suit for high power consumption vehicles with a large number of electrical devices.
Advanced Calcium technology combined with improved design to guarantee performance.
Modern design featuring recessed terminals for added safety and stackability.
Improved internal design for maximum performance and long life.
The latest in polyethylene envelope separators to protect against vibration
Totally maintenance free.
Endurance Range
The right power for right application
Car with standard levels of electrical equipment doesn't mean less battery power
requirement, superior starting, consistent performance and absolute reliability is
always needed. And that's exactly what you can get from the Brava Endurance
Battery range, a tried and trusted choice in the aftermarket
As a battery range of trustworthy and maintenance free choice that offers a
combination of good value and cost effective, the Endurance battery range is a real
power all rounder and the best-selling replacement parts battery in the aftermarket-
no doubt due to the excellent quality while you don't have to cost the earth
For conventional and older vehicle with standard power requirement.
Calcium technology combined with improved design to guarantee performance.
Improved internal design for maximum performance and long life.
The latest in polyethylene envelope separators to protect against vibration
Solid and reliable performance
Best-selling product on the market
Totally maintenance free
DIN BATTERY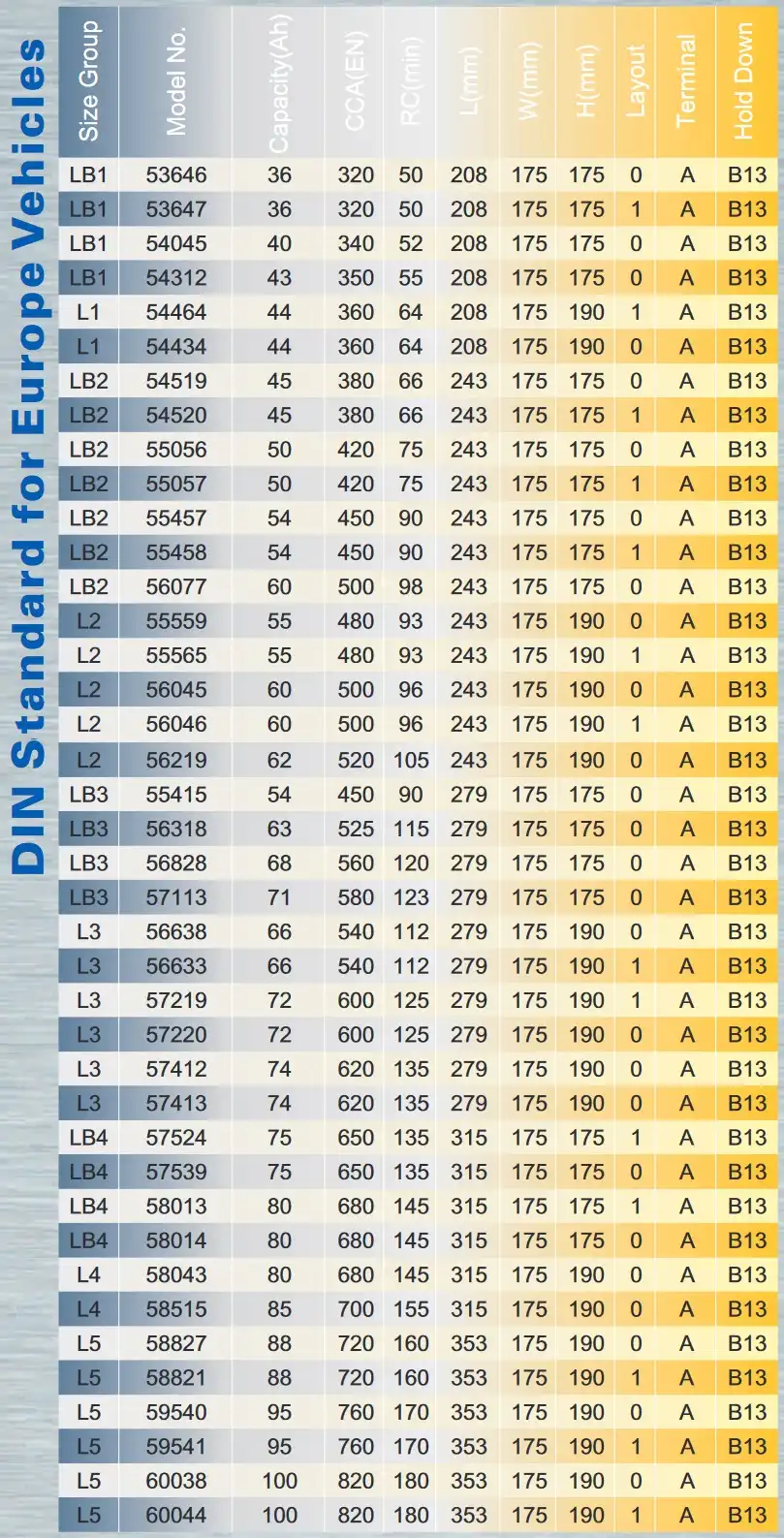 JIS BATTERY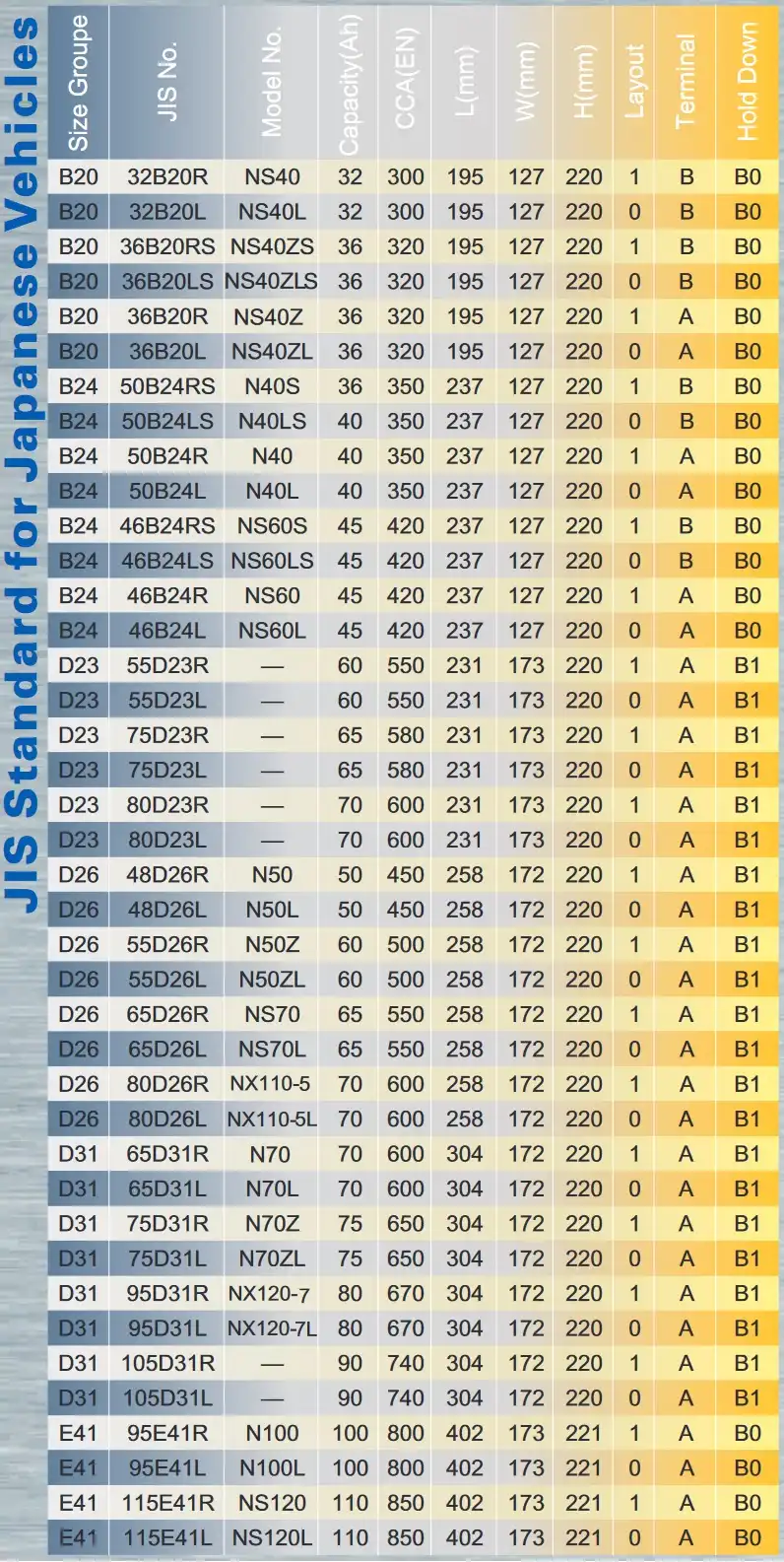 BCI BATTERY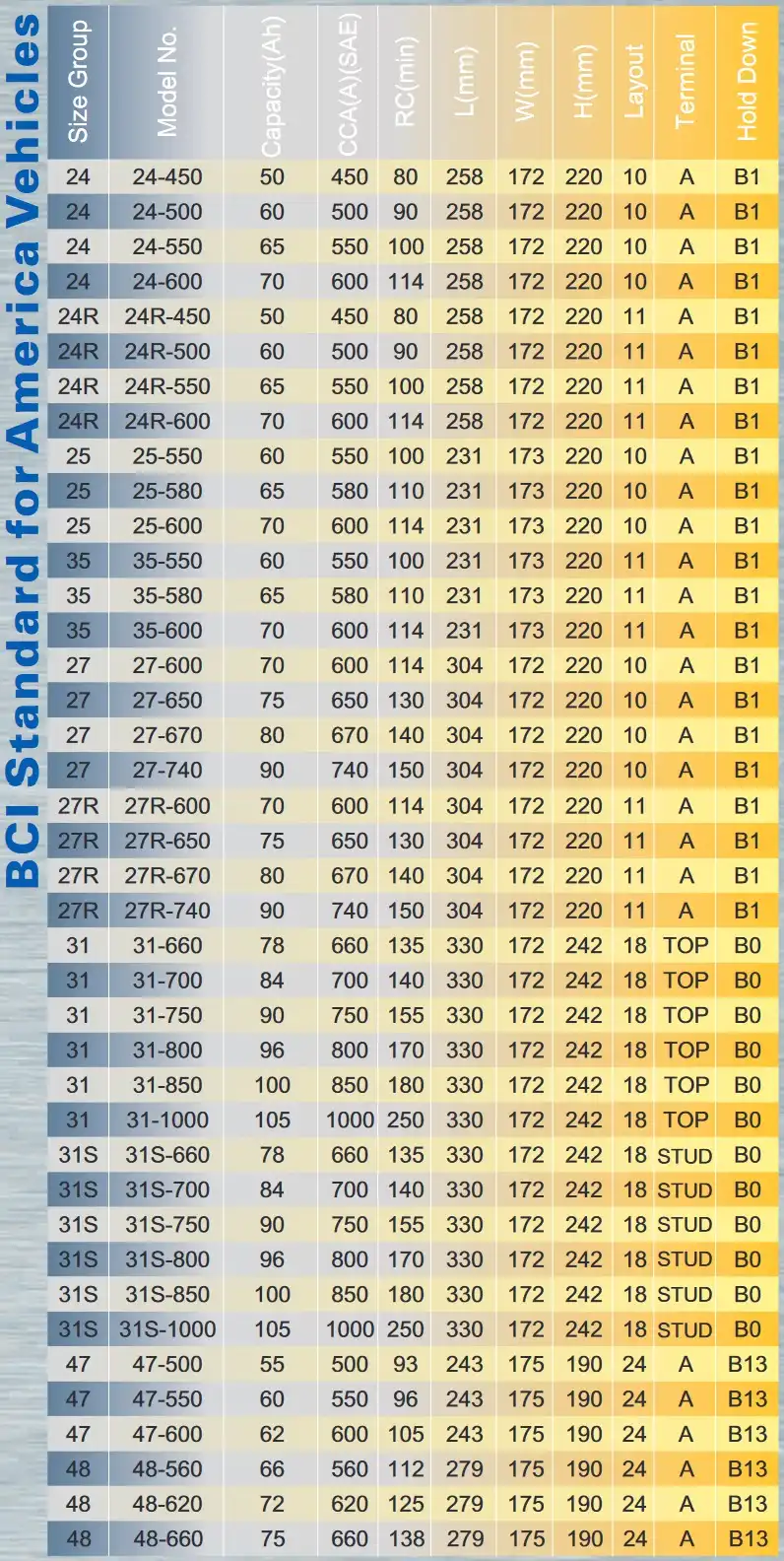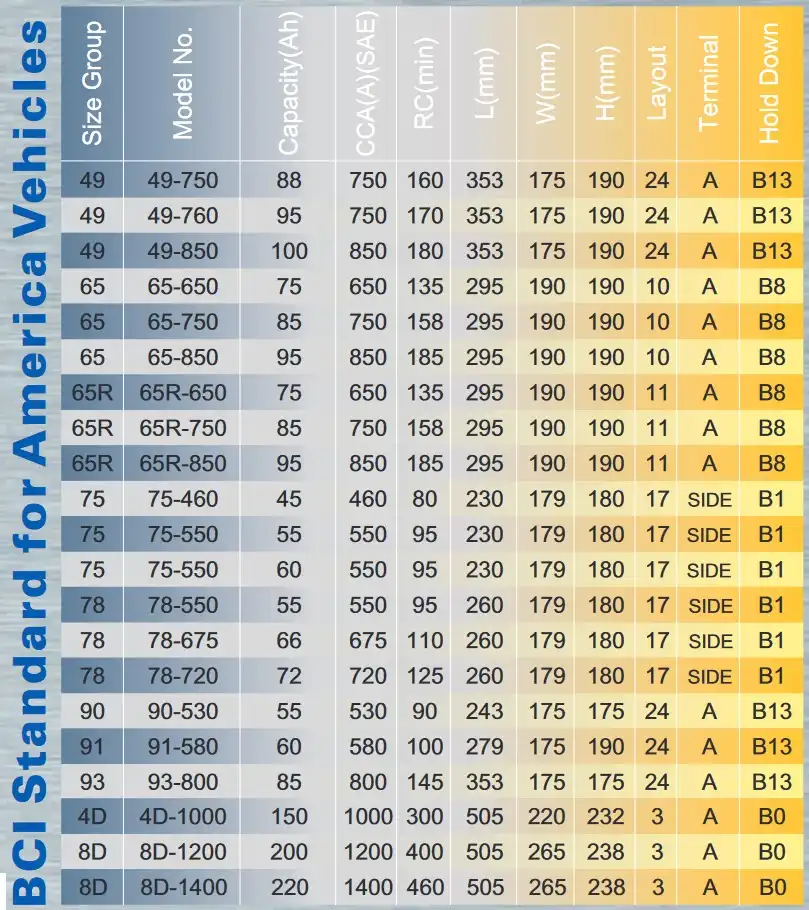 BATTERY Terminal Type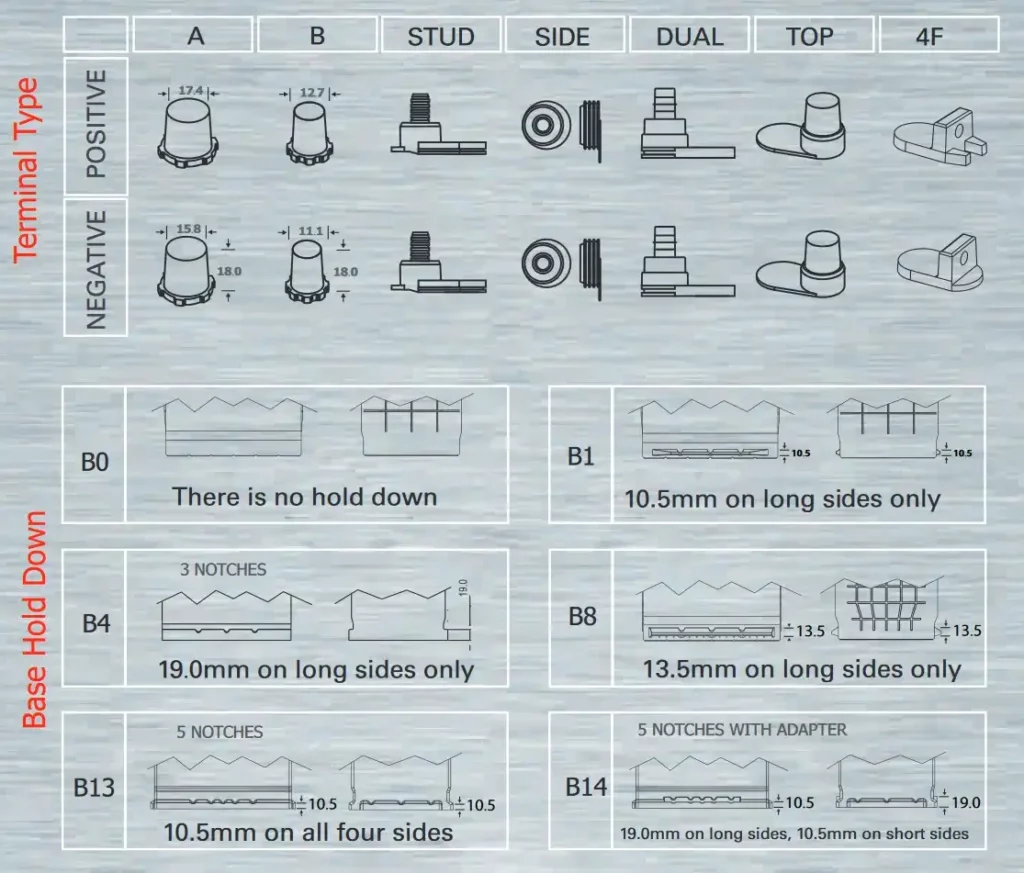 BATTERY Cell Layout