FT12-100 12V100Ah AGM Battery || Replacement 12TP105HFT-FR
Front Teminal FT AGM battery General Features & benefits:
Long Life: 12 years design life in floating condition
Wide operating temperature range: from -15°C to 60℃
Advanced paste formula with increased recharge efficiency
Front access terminal with standard width for 19" and 23" ETSI racks
30% decreased float current lead to excellent high temperature resistance
Save Space and Easy to Maintain
Low self-discharge rate
Excellent deep discharge recovery capability
Faster recharge rates – AGM batteries recharge up to five times faster than a flooded battery.
Spill-proof – Because the electrolyte is held in place by the plate separators, AGM batteries are spill-proof. This allows you to mount an AGM battery in a variety of positions that aren't possible with a flooded option.

Product Application
UPS(uninterruptible power supply) power supplies
Marine equipment
Telecommunications equipment
Engine start
Emergency lighting control equipment
Fire and safety systems
Computer, power switching system
Microprocessor-based office machines
Wind and solar power systems
replacement 12TP105HFT-FR
Tips: more detail application,for AGM battery application.
Standards & Certifications
Compliance with IEC 60896 standards, EU Battery Directive
UL, CE Certified
Manufactured in ISO45001,ISO 9001 and ISO 14001 certified production facilities
Front Terminal AGM Battery Specifications
Rated Voltage

Terminal
Container Material
Max. Discharge Current
Internal Resistance(25ºC)
Operating Temp. Range

Discharge

Charge

Storage

Nominal Operating Temp.Range
Cycle Use
Initial Charging Current less than 25A. Voltage 14.6V ~14.8V at 25ºC (77ºF)Temp. Coefficient 30mV/ ºC
Standby Use

Initial Charging Current less than 25A. Voltage
13.6V~13.8V at 25ºC(77ºF)Temp. Coefficient -20mV/ºC

Effect of temp. to Capacity

40ºC (104ºF)

25ºC ( 77ºF)

0ºC ( 32ºF)

Self Discharge

BP series batteries may be stored for up to 6 months
at 250 C(77ºF) and then a freshening charge is required.
For higher temperatures the time interval will be shorter
Battery Structure Diagram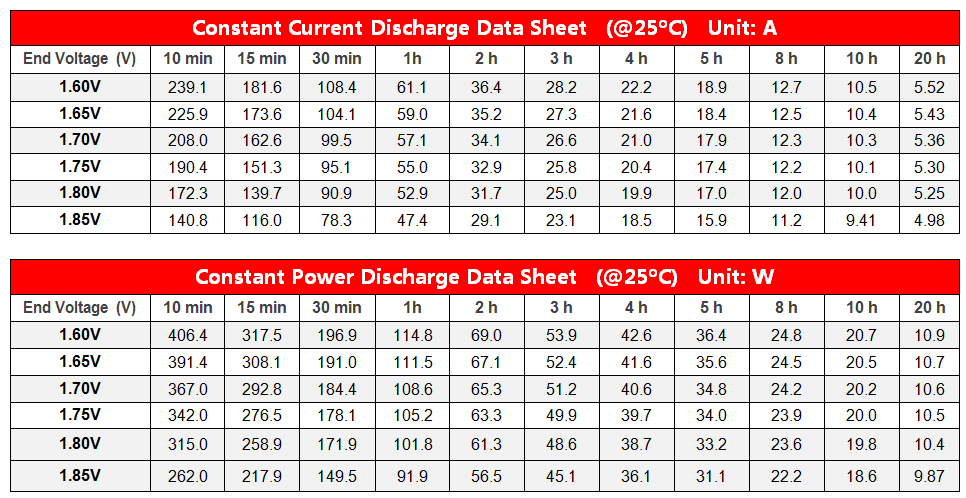 Tips: more detail information, for acid battery。