Emergy Storage Cabinet Product SPEC
Model: LFP48-200
Battery Type: LifePo4
Battery Voltage: 51.2V
Battery Capacity: 200Ah
Cycle Life: 3000~5000 times
Application: Home Energy Storage System
Communication inverter: Deye SMA, Victron, Grottwatt, UZ, Sola-X, Sinxcel, Sungrow etc.
FEATURES & BENEFITS
High cycle life
6000 Cycles (25℃, 80% DOD) for effectively lower total of ownership cost
Longer service life
Low maintenance batteries with stable chemistry.
Built in circuit protection
Battery Management System (BMS) is incorporated against abuse.
Better storage
up to 6 months thanks to its extremely low self discharge (LSD) rate and no risk of sulphation.
Quickly recharge
Save time and increase productivity with less down time thanks to superior charge/discharge efficiency.
Extreme heat tolerance
Suitable for use in a wider range of applications where ambient temperature is unusually high: up to +60°C.
Lightweight
Lithium batteries provide more Wh/Kg while also being up to 1/3 the weight of its SLA equivalent.
Emergy storage cabinet LFP48-200
| | | |
| --- | --- | --- |
| ITEMS | STANDARD | REMARKS |
| Nominal voltage (V) | 51.2 | |
| Energy (Wh) | 10240 | |
| Nominal capacity (Ah) | 200Ah | 0.2 C discharge |
| Charging cut-off voltage (V) | 57 | |
| Standard charging current | 40 | Recommended at 0.2 C |
| Maximum charging current (A) | 100 | |
| Charging cut-off current (A) | 1 | |
| Discharge cut-off voltage (V) | 40 | |
| Standard continuous discharge current (A) | 40 | Recommended at 0.2 C |
| Maximum discharge current (A) | 100 | |
| Internal resistance (mΩ) | ≤100 | Test discharge port is between positive and negative pole ears |
| Battery module  size (mm) | 445*430*222mm | Without  hangers |
| Weight (kg) | Around 80kg | |
| Discharge temperature range (℃) | -10~55 | |
| Charging temperature range (℃) | 0~45 | |
| Storage temperature range (℃) | -20~45 | |
| Storage ambient humidity (RH) | 5%~95% | |
| Working environment humidity (RH) | ≤85% | |
| Positive and negative lead wire | DT38-100A-2P 38mm2 Terminal | |
| Air Switch | Delixi DBG9 | |
| Case material | SPCC  1.5mm | |
Feature: Long Lifespan, connect with inverter so that converting solar energy to electricity. also could be AC charging.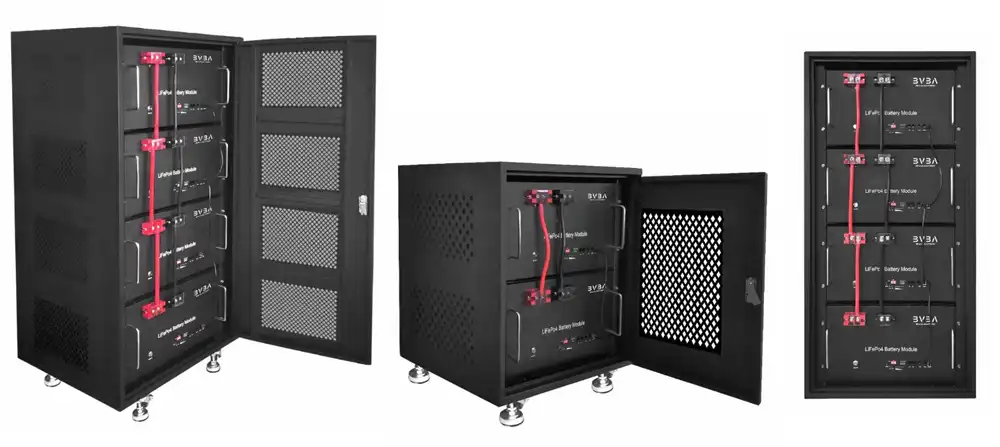 Emergy storage cabinet More models Specifications
Voltage

48 V

48 V

48 V

48 V

48 V

Capacity

50Ah

100Ah

150Ah

200Ah

250Ah

Energy

2.4KWH

5.12KWH

7.68KWH

10.24KWH

12.80KWH

Operation voltage

35.25-54.75 Vdc

37.6-58.4Vdc

37.6-58.4Vdc

37.6-58.4Vdc

37.6-58.4Vdc

Max.charging voltage

54.75Vdc

58.4 Vdc

58.4 Vdc

58.4 Vdc

58.4 Vdc

Max.charging and discharging current

50A

100A

100A

100A

100A

Max Power

2400W

5120W

7680W

10240W

12800W

Life time(25°C)

Life cycles(80% DOD, 25°C)

Storage time / temperature

5 months @ 25°C; 3 months @ 35°C; 1 month @ 45°C

Operation temperature

-20°C to 60°C @60+/-25% Relative Humidity

Storage temperature

0°C to 45°C @60+/-25% Relative Humidity

Lithium Battery Standard

UL1642, IEC62619, UN38.3, ROHS,CE-EMC

Enclosure protection rating

Dimensions(L×W×H)mm

Weight
The LFP48-200 Emergy storage cabinet is an expandable battery pack with a built-in BMS system, which can be combined into a rack storage system or used individually in a home solar system.  LFP48-200 is a smart residential energy storage device that enables homeowners to store the electricity generated by the on-site solar system or grid for use as an emergency home backup battery. Although it is attractive as an emergency power supply device, LFP48-200 was designed from the ground up to provide homeowners with on-site solar energy systems with a way to extend the electricity generated during the day to night.  These batteries are lightweight, environmentally friendly and maintenance-free energy storage solution. A single capacity of 10kWh, can connect up to 30 identical lithium battery modules in parallel, and is a home battery energy storage and business centre.  BRAVA rack-mounted battery are optimized using a proprietary battery architecture, power electronics, BMS, and assembly methods.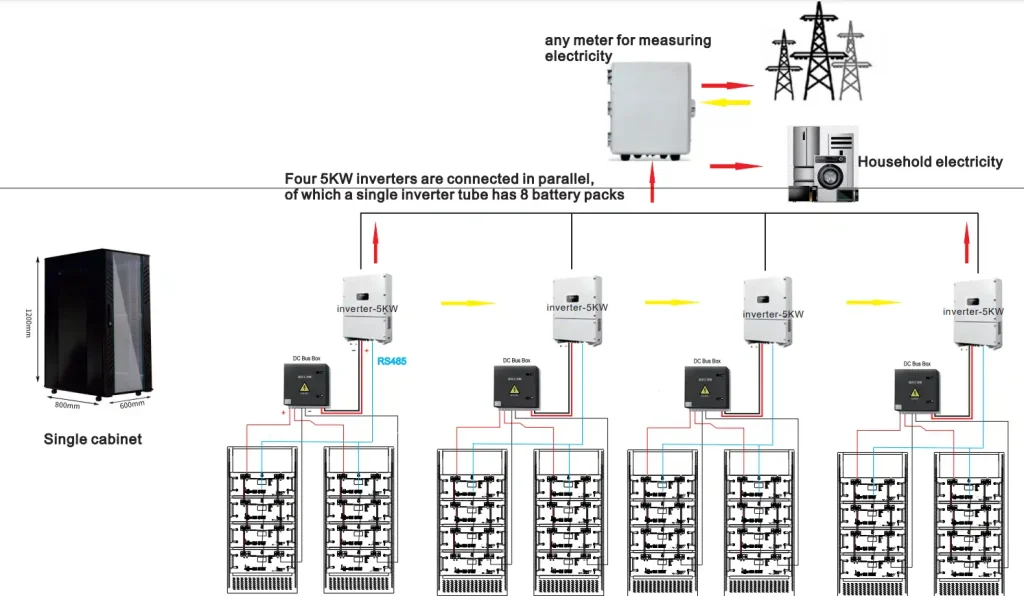 The worlds smallest battery management system
The built-in battery management system integrates with multilevel safety features including overcharge and deep discharge protection, voltage and temperature observation, over current protection, cell monitoring and balancing, and over-heat protection. This high-performance BRAVA® Lithium Battery has a large power capacity, with a fast charging and continuous discharge power, providing 98% efficiency. The advanced Lithium Ferro Phosphate (LFP) technology operates a wider temperature range to deliver the most dependable performance. LFP has been proven to be one of the safest Lithium technologies in the industry and is manufactured to the highest standards.
Product Highlights
– Non-Toxic & Non-Hazardous Cobalt-Free LFP Chemistry
– No Thermal Runaway with Fire Propagation
– No Heat Generation, Mitigation, Thermal Monitoring or Toxic Cooling
– Extended Operating Temperature -4 to 140F
– 99% Efficiency Rate
– Fast Charge & Discharge Rates
– >5000 Cycle Life with a 10 Year Warranty
– Cycle One to Several Times Per Day
– Seamless Integration with All Industry Standard Inverter/Charge Controllers
– Built-In Safety – BMS with Breaker On/Off Switch for Shipping & Installation
– Modular, Scalable & Proven Performance
Product Application:
– Solar/wind energy storage
– Home/ Residential Solar System
– Solar Storage System
– Solar Energy System
– Household off-grid solar systems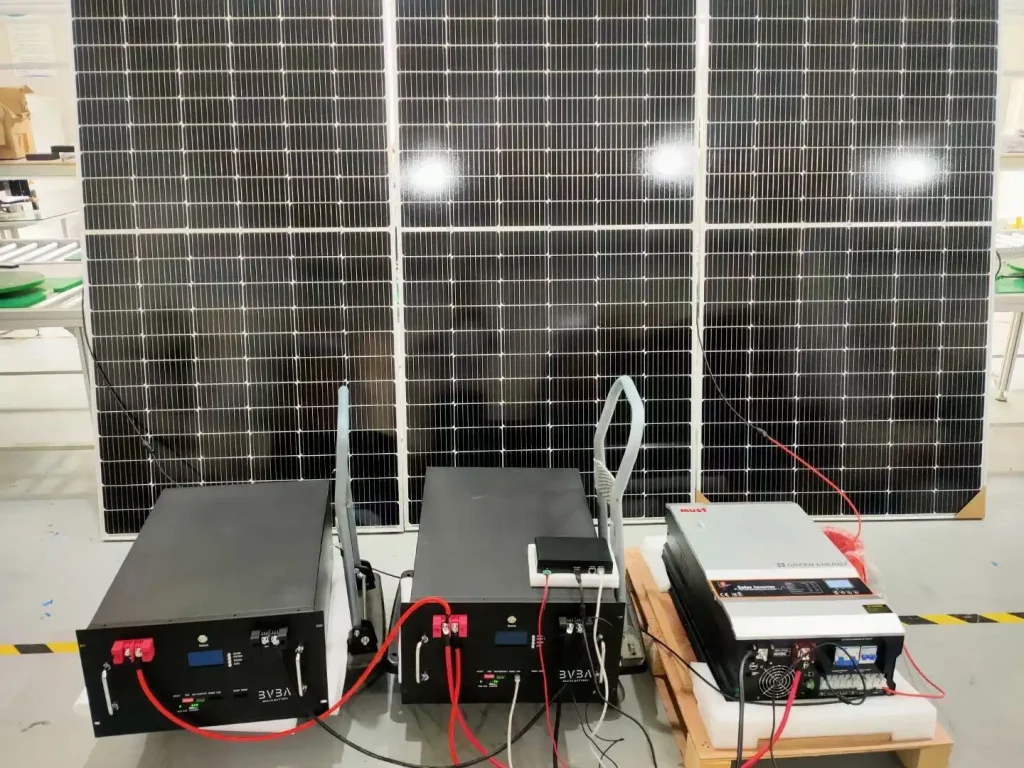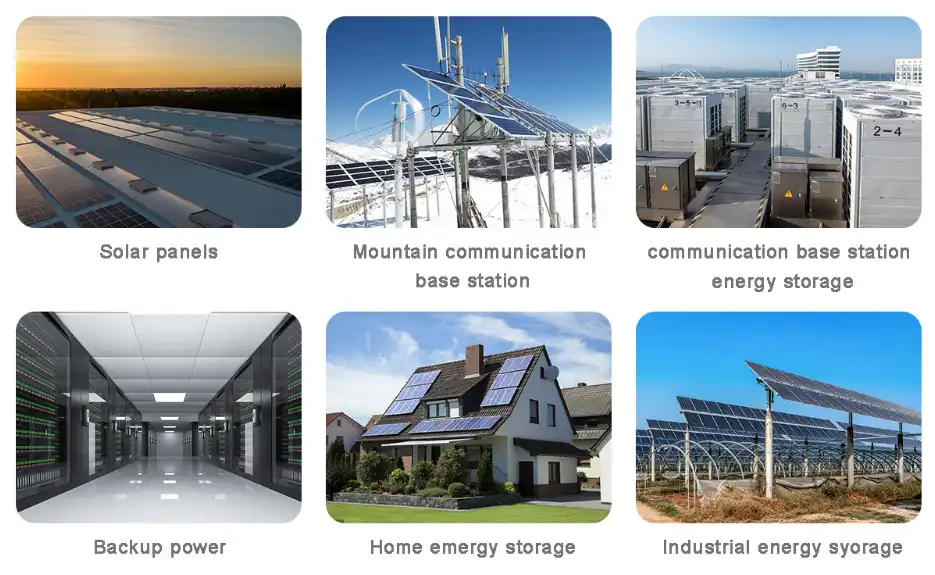 Rechargeable Lithium Battery Pack 51.2V 200ah For Solar Energy Storage
Brava solar LiFePO4 battery system is specially optimized for PV application, mainly used for the energy storage battery of Photovoltaic system; its advance intelligent lithium battery management technology to ensure the intelligent automatic management. With "Energy transfer" balanced patented technology, Brava lithium iron phosphate provide high efficiency balanced and prolong system operate life. Based on its own technical features as high capacity, high voltage and free of pollution, the lithium iron battery is widely concerned by people with a rapid development stance. It will be the first choice for the high requirement energy storage battery solution.
Key Features
High cycle life and deep cycle ability
High reliability
High cycle times and longer service life of >6000 cycles @80% DOD ;
Superior DOD (100% over lead acid bateres;
Excellent high temperature performance, ultra low life decay rate in operating when harsh environment;

Ultra low self discharge rate <1.5%/month;

More usable capacity
User friendly bms

LFP provides 100% of usable energy, so that you can discharge the battery entirely without causing downtime of your solar site,

saving cost of diesel generator fuel.

User friendly BMS monitors and communicates regarding the SOC, SOH, protects the system from short-circuit, high and low

discharging and charging, high temperature etc.

Faster charging
Easy installation

Charges much faster than sealed lead acid batteries, giving you access to reliable power quicker to continue your operation.

Can fully charge within 2-3 hours which is impossible for VRLA.

Brava LFP batteries are designed to be drop-in replacement for sealed lead acid batteries without additional labor cost.

High discharge rate
Superior deep cycle ability

Ability to deeply discharge the battery at a high rate of discharge

while maintaining a high energy capacity.

Excellent PSOC (partial state of charge) cycle life, which is the best ideal choice for solar energy storage;
Optimized for photovoltaic applications, using high temperature and high cycle life active materials;
1 I want to custom battery pack, can you make it?
We are lithium Battery Manufacturer for 7 years,so if you have any request on li-ion battery packs, simply send us an inquiry.
2 How Soon can I get samples, and how much will you charge it, will you refund?
We make samples in about 3-12 days, depending if we have them on stock, no extra markup on samples, and will refund on mass production.
3 What's your warranty? When does it start?
All of our products have one year limited warranty, start from the shipping date.
4 How shall i proceed with the returns?
please contact our sales representative for a RMA form, we'll proceed accordingly.
5 What will You Do if we got damaged products when arrive?
We will replace new goods at our cost if the batteries are damaged when arrive, no charges on your side, please contact us for images of damage.
6 How about your lead time, and especially when can i get the goods after i make payment?
Lead Time for samples is about 10 days and bulk order around 12-25 days depending on the order quantity and our order on schedule.
7 How about the MOQ?
Mostly we don't have MOQ. Especially for the samples. For Custom battery, our MOQ 10.
8. Is 200 Ah battery good for home?
A 200Ah lead-acid deep-cycle battery running a 400 watt DC load with 50% recommended Depth of Discharge will last for approximately 3 hours. A 200Ah deep-cycle lead-acid battery will power a 400W rated refrigerator for about 25 hours at a rate of 40 watts per hour.
9. How many watts is 200Ah battery?
Watt is the unit of power and the amount of power stored in a battery is equal to the multiple of its Voltage and Ampere- hours, hence 12 volts 200Ah battery is equal to 2400 watt (12×200), 24 volts 200 ah battery is equal to 4800 Watt (24 x 200) and a 48 volts 200 Ah battery is equal to 9600 Watt (48 x 200).
10. How long does a 200Ah battery take to charge?
LiFePO4 Battery + Dedicated Charger】Ampere Time 12V 200Ah LiFePO4 battery can be efficiently charged by 14.6V 20A LiFePO4 battery charger in around 10 hours from 0 to 100% capacity, which takes only ½ the time of the traditional battery charger.
11. How to calculate Inverter battery backup time?
To find how long will a 200ah battery last, first, you'll need add up the total wattage of the devices you want to power with your 200ah battery bank. Let's say you want to power six 9-watt LED light bulbs, a 45 watt TV and a 90 watt fan for 10 hours.
You will not only need an inverter capable of carrying the load, but also a battery bank capable of powering the load for the required backup period.
After you have determined your load's power consumption, the efficiency of the inverter, size and voltage of the battery bank, you can use this formula to determine how long will a 200ah battery will last:
12v (Battery Bank Voltage) x 200ah (Battery Capacity) x 0.8 (Depth of Discharge) x 0.8 (Efficiency) / 189 watts = 8 Hours
The above result shows that a single 200ah battery cannot power a load of 189 watts continually for 10 hours (at 80% depth of discharge and efficiency) to get the desired result (without damaging the battery) you would need to add an additional battery.
12v (Battery Bank Voltage) x 400ah (Battery Capacity) x 0.8 (Depth of Discharge) x 0.8 (Efficiency) / 189 watts = 16 Hours