AGM 12/70 (group 27) – AGM batteries
In AGM batteries, the electrolyte (mixture of water and sulphuric acid) is largely absorbed in glass fibre. This type of battery is entirely maintenance-free and there is no gas formation with normal use. Not requiring any ventilation, these batteries can be installed anywhere.
Their construction gives a very fast discharge at very high currents so AGM batteries are ideal for systems that require high currents (for instance when starting an engine). The battery poles can be unscrewed and this type of battery can be combined with every standard battery terminal.
Excellent starter function.
Perfect upgrade for wet lead acid batteries.
Same initial power surge in an AGM 12/90 Ah as 180 Ah wet lead-acid battery.
Glass-fibre technology ensures low internal resistance.
Use of thicker plates extends lifespan.
Also for medium cyclical use.
Two-year warranty.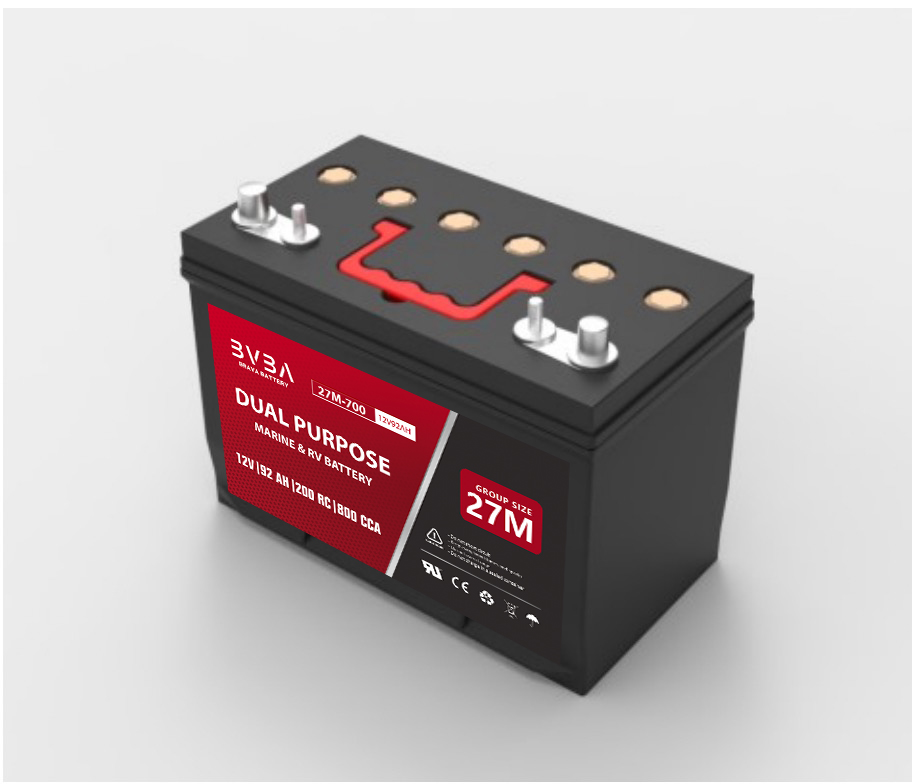 Professional Dual Purpose 12v AGM Battery Key Benefits
Designed for motorhomes, caravans and boats with moderate energy requirements
Long-lasting: up to three times the cyclic stability of conventional flooded batteries (more than 400 cycles @ 50% DOD)
Minimal self-discharge makes them ideal for seasonal use
AGM technology for superb shock and vibration resistance
Ideal for dual power applications (can be used for both overall energy supply and starting)
Made in China and vietnam
Highest vibration resistance
A Dual Purpose AGM battery is designed to bridge the gap between starter batteries and deep cycle batteries. You gain a combination of features from both types of batteries, including strong cranking power and steady, low-amp discharge for continued operation. This battery is completely sealed and is, maintenance-free, leak-proof and usable in any position. Ideal for 4WD start and dual battery setups.
How Does a Dual Purpose AGM Battery Work?
A Dual Purpose AGM Battery is a rechargeable battery with a comparable design to other types of lead acid batteries. As with most lead acid batteries, an AGM battery uses positive and negative lead plates to generate electricity. With an AGM battery, an absorbent glass mat is used to separate the lead plates.
The plates and the AGM separators are tightly compressed and held in cells. The cells are contained in a durable plastic case. The tight compression increases protection against shock and vibration. It also results in more efficient discharge/charge cycles compared to other types of lead acid batteries.
A Dual Purpose AGM Battery can function as a starting battery or a deep cycle battery. Compared to starting batteries, the dual-purpose battery has thicker, large plates. The larger plates allow for a low, steady draw. However, you also get enough current for starting applications, resulting in a dual-purpose solution for a variety of vehicles and equipment.
Practical Applications of a Dual Purpose AGM Battery
Dual purpose 12V AGM batteries are most often used in marine equipment and electric vehicles to eliminate the need for two separate batteries. The AGM battery can start the equipment and provide a steady current with a deeper discharge compared to a starting battery.
FAQ
 Deep Cycle Batteries That Are Tough and Built to Last
All our AGM Deep Cycle Batteries use the toughest internal lead components and advanced technical features, so they deliver longer lasting, reliable power. We offer superior battery warranties on all our deep cycle batteries compared to our competitors. Also, we think about the future and environmentally up to 98% of our battery range can be reclaimed through proper battery recycling processes.
  Deep Cycle Batteries with Exceptional Deep Discharge Recovery
Our range of Deep Cycle Batteries are designed to be cycled (discharged and recharged) numerous times, this means that our deep cycle batteries provide power at a steady rate over a long period. A high oxygen-recombination efficiency ensures that there is no loss of electrolyte, giving our batteries exceptional deep discharge recovery performance
  Deep Cycle Batteries For A Large Range of 12Volt Power Applications
Our range of 12V AGM Deep Cycle Batteries have "Absorbed Glass Mats – AGM" between the plates, this means that each 12v Deep Cycle Battery has a very fine fibre Boron Silicate glass mat layered between each of the internal plates, thus called AGM Batteries. Our Deep Cycle Gel Battery range offers a greater depth of discharge when compared to our competitors product.
 Deep Cycle Batteries That Are Maintenance Free and Safe
Our Deep Cycle AGM Batteries have the added advantage of a superior ability to take abuse without the plates coming loose or knocking into each other and shorting out. Should your deep cycle batteries become damaged, they are designed not to leak acid and are 100% safe in sealed spaces.
Dual Purpose AGM Battery 12volt Series
| Model | Rated Voltage(V) | 20hr @1.75V/cell | RC (min) | CCA -18℃(A) | L(mm) +0/-2 | W(mm) +0/-2 | H(mm) +0/-3 | TH(mm) +0/-3 | Gross Weight(kg) |
| --- | --- | --- | --- | --- | --- | --- | --- | --- | --- |
| 24M-550 | 12 | 79 | 150 | 550 | 260 | 168 | 208±2 | 233±2 | 23.0 |
| 27M-580 | 12 | 92 | 175 | 580 | 306 | 168 | 208±2 | 233±2 | 27.0 |
| 27M-700 | 12 | 92 | 200 | 800 | 306 | 168 | 208±2 | 231.5±2 | 28.5 |
| 31M-720 | 12 | 105 | 200 | 720 | 330 | 173 | 212±2 | 235.5±2 | 29.8 |
| 31M-825 | 12 | 105 | 200 | 825 | 330 | 173 | 212±2 | 235.5±2 | 30.6 |
| 34M-800 | 12 | 62 | 125 | 800 | 275 | 171 | 200±2 | 235.5±2 | 21.6 |
| S34B20R | 12 | 27 | 47 | 270 | 197 | 128 | 227 | 227 | 10.5 |
| S46B24R | 12 | 45 | 68 | 325 | 238 | 128 | 227 | 227 | 13.5 |
| S55D23R | 12 | 50 | 85 | 550 | 220 | 170 | 225 | 225 | 15.1 |
| S65D26L | 12 | 68 | 125 | 400 | 257 | 171 | 227 | 227 | 17.3 |
| S75D31L | 12 | 80 | 125 | 510 | 304 | 171 | 227 | 227 | 20.7 |
| LN1-AGM | 12 | 50 | 80 | 520 | 206 | 174 | 189 | 189 | 15.5 |
| LN2-AGM | 12 | 60 | 100 | 680 | 242 | 174 | 188 | 188 | 17.8 |
| LN3-AGM | 12 | 70 | 120 | 760 | 277 | 174 | 188 | 188 | 21 |
| LN4-AGM | 12 | 80 | 140 | 800 | 315 | 174 | 188 | 188 | 24 |
| LN5-AGM | 12 | 95 | 160 | 900 | 353 | 174 | 188 | 188 | 25 |
| LN6-AGM | 12 | 105 | 190 | 950 | 394 | 174 | 189 | 189 | 29.6 |
| LPM12-140M | 12 | 140 | 247 | 700 | 512±3 | 188±3 | 196±3 | 218±3 | 41.2 |
| LPM12-180M | 12 | 180 | 380 | 900 | 512±3 | 222±3 | 196±3 | 216±3 | 50.5 |
| LPM12-200M | 12 | 200 | 445 | 950 | 527±3 | 214±3 | 222±3 | 244±3 | 55.1 |
| LPM12-210M | 12 | 210 | 450 | 1200 | 517±3 | 272±3 | 218±3 | 238±3 | 62.0 |
| LPM12-245M | 12 | 245 | 540 | 980 | 527±3 | 280±3 | 230±3 | 252±3 | 67.5 |
| LPM12-285M | 12 | 285 | 640 | 1050 | 527±3 | 280±3 | 230±3 | 252±3 | 77.9 |
| LPM12-330M | 12 | 330 | 745 | 1200 | 527±3 | 280±3 | 230±3 | 252±3 | 86.5 |